Bangalore, in recent times have grown as one of the most sought after cities in India for the diverse opportunities it has to offer. With the entry of several multinationals, adoption of the western cuture by the city youth, the city is now a major metropolitan of the Country.
In spite of all the hustle-bustle in the recent times, the residents of Bangalore have remained spiritual, god fearing and always in search of good values in Life. The daily routines of majority of the elderly Bangaloreans includes a visit to the local place of worship or a meeting place for their daily dose of spirituality. Hundreds and Thousands of eager souls throng a community halls or Places of worship to learn what their Gurus or spiritual teachers had to say and to get blessed. Expressions of anxious anticipation are writ plain on the faces of most of the devotees. Bangalore has a lot to offer in the form of discources, spiritual talks, short courses on Spirituality and several forms and medium to help people in their search for Good values.

Bangaloreans have always sought the best in Life, which in turn makes them offer the best in Life to the new entrants of the city. People flock to the learned, Godmen, Sadhus and Saints and anybody who can give them the meaning of Life and its good values. Bangaloreans are always eager to learn what the Vedas, Upanishads and the Bhagavad Gita had to say to lead a clean and disciplined Life and are ready to adopt these good values to their daily lives. People experience and encounter a distinct perspective listening to their Guru who has the unique style of weaving their wisdom in their teachings.
Bangalore is also the home of some of the world known Saints and Gurus. One of the renowmed Gurus of recent times Sri Sri Ravishankarji's ashram Ved Vignan Mahavidya Peeth International Centre is located on the outskirts of Bangalore. His ever popular "Art of Living" techniques are so successful that it is recognised by the United Nations and scores of multinational have it on their annual HRD agenda. The other spiritual guides whose headquarters are elsewhere in India have their branches in Bangalore and the Gurus made periodic visit to the City to enlighten people.
Some of the well known Ashrams/Spiritual Organizations in Bangalore and nearby are: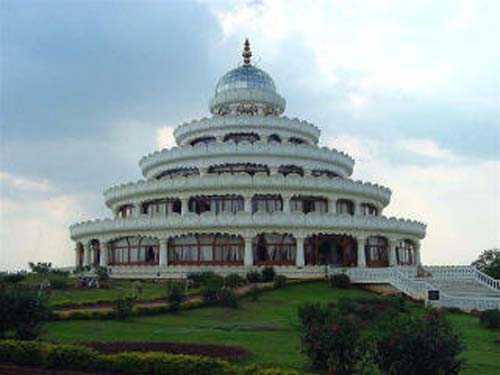 Art Of Living - Offers Guruji's version of Vedic philosophy and the yogic and breathing techniques of "sudarshan kriyas."
Bangalore - International Center
21st km, Kanakapura Road,
Udayapura,
Bangalore - 560 062
Karnataka, India
Tel: 91-80-2843 2274
Fax: 91-80-2843 2832
Email: ashram@artofliving.org
Website : www.artoflivingbangalore.org/
City center at:
Vyakti Vikas Kendra
19, 39th A Cross
11th Main, IV T Block
Jayanagar Bangalore 560 041
Phone: 91-80-26645106.
Mata Amrithanandamayi Math
136 Ullal Cross Road, Jnanabharati 2nd Stage
(Behind Bangalore University),
Opp: Nagdevanahalli (B.D.A. Lay Out)
Bangalore - 560 056.
Phone: 91-80 - 28486439, 28439565,28439566, 28441216, 28441217
Fax: 91-80 8439565
Sri Nimishananda Ashram
# 93, 12th Cross, Ideal Homes Circle, Ideal Homes Township,
Raja Rajeshwari Nagar,
Bangalore 560 098.
Phone: (91) - 80 - 5763 8099
Working hours: 9:30am to 5:30pm, Monday to Saturday.
E-mail: shrichakrafoundation@hotmail.com
Website: www.shrinimishamba.org
Ramakrishna Math & Ramakrishna Mission (Shivanahalli)
Bull Temple Road
Bangalore 560019
Phone : 91-80-22667351 & 26671010
Telefax: 91-80-26613149
Email: rkmbir@vsnl.net
Vivekananda Ashrama
Swami Vivekananda Road
Ulsoor, Bangalore 560008
Telefax: 91-80-25367878
Email: vivekananda_ashrama@hotmail.com
ISKCON Bangalore
A huge and beautiful temple offering classes in Bhagavatam and Bhagavad-Gita, devotional chanting, educational displays, worship, arati, and more
Hare Krishna Hill
1 OR¹ Block, Chord Road, Rajaji Nagar Bangalore 560 010
Tel. 91-80-2332-1956 Fax: 91-80-2332-4818
E-mail: ananda.tirtha.jps@pamho.net
Dhamma Sumana
Vipassana Meditation & Research Centre
City Office: Bharat Silks, No. 185, 1st floor, 4th Cross, Lalbagh Road, Bangalore 560 027
Tel: 91-80- 22224330, Fax: 22275776. Shri C.M.Goenka - 26633980,Shri S.N.Jyotiprakash - 26761646
E-mail: silksb@vsnl.com
Dharma Subhashita(Thubten Lekshey Ling)
An Indo-Tibetan Buddhist Meditation & Study Centre at Bangalore founded under the spiritual guidance of His Holiness Penor Rinpoche. The Centre conducts meditation classes and spiritual discourses regularly. Inspired by the advices of His Holiness the 14th Dalai Lama, the centre participates in revitalizing the rich intellectual tradition of the ancient Nalanda University through building awareness in philosophical thinking with a non-sectarian approach. Dharma Subhashita follows Indo-Tibetan Buddhist Philosophy upholding the non-sectarian values of the Ri-me' movement. With regard to spiritual practice, Dharma Subhashita emphasizes the "Great Perfection" (Dzogchen / Mahasandhi-yoga) teachings of the Nyingma tradition
Phone: 98802-96930
Address: #30, Ashirvad, St. Marks Rd Cross,
St. Marks Road, Bangalore -01
email: info@dharmasubhashita.org
web: http://www.dharmasubhashita.org
Choe Khor Sum Ling Center,
Ashwini, No. 24, 1st floor, 3rd Main St,
Domlur Layout 1st Stage, Bangalore 560071
Tel. 080 41486497, Mobile:. 99869 44153

Choe Khor Sum Ling Center is a Buddhist Meditation & Study Center, established in 2003 by Lama Zopa Rinpoche at the request of His Holiness the XIV Dalai Lama. The Center offers courses on various aspects of the Buddhist philosophy and different meditation techniques by highly realized teachers for free.
For more information please visit http://www.cksl.in.

Sri Mathrudevi Vishvas Shanti Ashram
14/5, 6th Cross Ashoknagar
Banashakari 1st Stage
Bangalore 560 050
Phone: 91-80-22609588
The ashrama of Sri Vijayeshvari Devi, known as Mother Karunamayi,and accepted as an incarnation of the Divine Mother in the form of Lalitha Devi. Offers daily meditation classes and lectures on mantras, and Vedic truths every evening when she is not at the forest ashrama or touring in the West.
Shri Shivabalayogi Maharaja Trust
1a, III Phase, J.P.Nagar, Bangalore 560 078
Phone: 91-80-2664-8242.
For studies in "dhyana meditation" with kirtan and bhava samadhi, offers reseidential facilities, morning meditation, with temple for Brahma, Vishnu and Shiva.
Vivekananda Kendra Yoga Research Foundation
Prashanti Kuteeram Residential Campus
Jigani, Anekal Taluk, Bangalore, Phone: 91-80-425-535.
City Coordinating Center, Eknath Bhavan, 19, Gavipuram Circle
Bangalore 560 019, Phone: 91-80-6608645.
Dedicated to the teachings of Swami Vivekananda. Offers dormitories, rooms and cottages, lecture halls, and dining.
Thubten Lekshey Ling
- A Nyingma Tibetan Buddhist Meditation Centre founded by late His Holiness Penor Rinpoche. The Centre conducts meditation programs and spiritual workshops in Mahayana and Vajrayana traditions of Buddhism.

Phone: 98802-96930
Web: www.lekshey.org
email: info@lekshey.org
Address: #41, 3rd Cross, Ulsoor Road, Near M.G.Road,
Bangalore -41
________________________________________________________
Other Prominent Spiritual/Religious Organizations in the city are:
Adyatma Prakasha Karyalaya, 68, II block, Thyagarajanagar. Ph: 26525548
Aryavartha Vydika Sabha, Kanakapura Road, Jayanagar
Atmadarshana Yogashrama, Dayananda College road, Kumaraswamy Layout. Ph: 2666 4016
Bahai Centre, 82, Coles Road, Frazer town. Ph: 2536 7707
Bangalore Vaishnava Samaj Charitable Trust, 1st Main, Gandhinagar. Ph: 2226 1034
Centre for Study of World Religions, Dharmavaram College, Hosur Road
Chinmaya Mission, CMH road, Indiranagar. Ph: 2528 1756
Christian Institute for Study of Religion and Society, 17, Millers Road. Ph: 2333 2981
Dasashrama International Centre, 5th Block Rajajinagar
Divine Life Society, Chikbazar Road, Tasker Town
Indian Institute of World Culture, 6, B P Wadia Road, Basavanagudi. Ph: 2667 8581
International Vedic Centre, 345, 14th Cross, 7th Main, II Block, Jayanagar. Ph: 2663 1616
Jain Swethambar Samaj, Opp. Sharada Talkies, Nagarthpet.
Jain Swethambar Tarapathi Sabha, II Main Road, Gandhinagar. Ph: 2224 6574
Kalki Prarthana Mandir, 135, 8th Main, 19th Cross, CHBS Layout, BDA Complex, Vijayanagar
Maha Bodhi Society, 14, 1st Main Road, Gandhinagar. Ph: 2225 0084
Meher Baba Universal Spiritual Centre, Byramangala, Abbankuppe Village, Bidadi Hubli, Ramanagaram Taluk, Hittamadu Post-562109.
35 km, southwest of Bangalore.
Glow International Meher Nazar, 4,Park Land, 13,13/1,
Eagle Street, Lang Ford Town, Bangalore - 560028.
Prajapitha Brahma Kumari Iswariya Vishwa Vidyalaya, Zonal centre, Vishwashanti Rajayoga Bhavana, Gottigere, Bannerghatta Road. Ph: 2842 9945
Ramana Maharshi Centre for Learning, 40/41, Place Lower Orchards, Hyderabad Road. Ph: 2336 9633
Rajasthan Swethambara Moorthy Poojaka Sangha, 460, 30th Cross, 9th Main, Jayanagar
Sadhana Sangama, 48, 6th Main, II Stage, KHB Colony, Basaveshwarnagar. Ph: 330 3748
Sri Aurobindo Society Trust, Gangadhara Chetty Orad. Ph: 25599050
Sri Madhwa Sangaha, 5th Main, Chamarajpet
Sri Narayana Samithi, 1, Ulsoor Tank road. Ph: 2547 0277
Sri Satya Sai Baba Ashram, White Field. Ph:2845 03418, 2855 2233
Srivasihnava Sabha, Malola Mandiram, III Main, 5th Corss, Prakashnagar. Ph: 2332 5111
Taralabalu Religious and Cultural Centre, 3rd Main, II Block, RT Nagar. Ph: 2333 2759
Theosophical Society, Krishnarajendra Road
Ubhaya Vedanta Pravarthana Sabha, East Park Road, Malleshwaram. Ph: 2344 7186
United Lodge of Theosophists, Maitri bhavan, 4, Sri Krishna Rao, Road, Basavanagudi.
Vedadhyayana Kendra, 437, 17th Cross, 5th Phase, J P Nagar. Ph: 2663 7150
Ved Vignan Maha Vidyapeeta, 21km, Udipalya Village. Kanakapura Road
Viswaprema Satsang Mandal, 53, Nanjappa Road, Shantinagar
Vyakti Vikas Kendra, 19, 39 A Cross, 11th Main, 4T Block, Jayanagar. Ph: 2664 5106
Vydika Dharma Sahaya Sabha, 40, 16th Cross, Gayatri Devi Park Extn, Malleshwaram. Ph: 2334 2170, 2334 4922