BANNERGHATTA NATIONAL PARK
Going to a zoo can be a vastly different experience from seeing animals in the wild. Although the Bannerghatta park is not on the scale of Big Zoos or Safari Parks, it does give nature lovers a glimpse of wild animals in their natural habitat. The Bannerghatta National Park was opened in the year 1974. This park is situated in a picturesque surroundings. Situated 25 kms from the heart of the city, its main attractions are bisons, lions, elephants and panthers among other wildlife. It also has a Serpentarium and a crocodile farm. Being a picnic spot it is always teeming with people. It also has a Lion Safari through which one can have real free view of Lions in the forest. The other attractions are the Lion tailed monkeys, the snake park, the museum, the collection of birds, the cheetah and other wild animals, it has also a very old ancient temple of Champakadharmeswara built by the Hoysalas in the 12th century AD. Very close to the National Park is the Pearly Valley where one can enjoy a refreshing bath. It is also surrounded by pictursque valley.. The park officials organise a Lion Safari for those interested.
The Bannerghatta National Park (BNP) will now be home to 31 lions and lionesses and a sloth bear which were rescued from circuses in Haryana and Uttar Pradesh. After travelling the 2,300-km long journey from the nation's capital, the animals were given a fresh lease of life, away from the pathetic conditions in circuses.The BNP, which started a lion safari park as back as 1979 and a tiger safari park in 1987, has planned to start bear and white tiger safari parks from this year.
Intel recently launched a year-long environmental programme at Bannerghatta Biological Park. The initiative, 'Intel for a better Bannerghatta', is in collaboration with World Wide Fund for Nature , India (WWF) and the park. The objective is to make the park a litter-free area.
---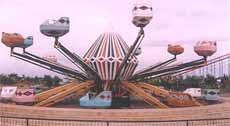 NEELADRI AMUSEMENT PARK
It is the only combination of an amusement park and a water park in the city. It's the place to ease out your tensions and amuse yourselves in a fun-filled atmosphere. Spread over 30 acres of splendid landscape, the park consists of 45 different mind boggling fun rides, a video games arcade, Roman type amphitheatre, restaurants, ice cream parlours and chaat stalls. The water park even provides locker facilities to the visitors.
---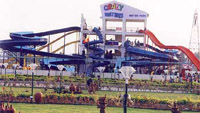 CRAZY WATERS
Located amidst a rocky landscape, this Water Park provides you the right kind of thrill, splash and excitement. Children and Adults can have a rollicking time in the pool, tunneling down the fibre tunnels on imported, colourful floats. The Park also provides swim costumes for rent.
---
WONDER LA
The newest amusement park to entertain Bangaloreans of all age is the Wonder La Amusement Park. Situated on the Bangalore Mysore Road, Wonder La has already been ranked India's biggest amusement park. The reasons for this distinction are many. It incorporates the latest technologies including a number of water rides and latest imported land rides never seen elsewhere in the country. Maverick, Y-Scream, Drop Zone, Insanity and so on are some of the high-thrill rides, where riders can experience a maximum thrill of up to 3 G's. Wonder la also boasts of India's largest Indoor Musical Fountain & Laser Show apart from the Virtual Reality theatre that offers a complete multi-sensorial movie experience. Families can enjoy a number of water-based amusements that include two Wave Pools, two Play Pools, Lazy River and a variety of Water Slides. Wonder la is the only amusement park to provide heated water during winter months.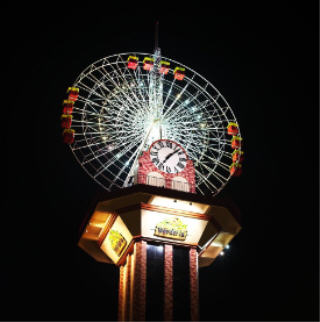 Wonder La meets the highest levels of Safety & Hygiene standards an amusement park can. The water used throughout the park undergoes multi-level purification processes that include the advanced Reverse Osmosis. Regular maintenance and inbuilt safety features of the various rides ensure safe and enjoyable experience for the riders. Six multi-cuisine restaurants spread across the park offer a veritable spread of tasty and hygienic Veg and Non-veg food.
Other unique amenities available at Wonder La include First Aid Counter, ISD / STD Telephone Booths, Locker Rooms, Baby Changing/Nursing Room, Credit Card Payment facility, parking space for over 1500 cars with restrooms for drivers all manned by efficient and friendly personnel. Park assistants and Life Guards are always at hand, for the help of visitors. For more details Phone : 08113-394441/2/3/5 or visit their website

---
NAGAVARA LAKE & LUMBINI GARDENS
The newest Water Park that is bringing joy and respite to Bangaloreans from the hot summer is the Lumbini Gardens on the Nagavara Lake.
Lumbini Gardens on the Nagawara lake front near Hebbal is an exclusive boating and leisure complex with a variety of entertainment activities introduced for the first time in Bangalore. The leisure park is set up at a cost of over Rs 10 crore.
Professional lifeguards enable an inexperienced boater to enjoy these rides and also to ensure ones complete safety on waters. One can endeavour different boats and water entertainment here from two seaters to 15 seaters. An array of boats, a floating coffee shop and many more form an attraction. In the next phase one can experience the pleasure of being virtually on a beach at the wave pool.
The park has been designed to cater to all ages, children can look forward to a rotating Carousal or enter in a land of fantasy with the Vortex, a new invention in entertainment.
There is also a water-skiing device for thrill seekers, alongside an exclusive speedboat. There are a variety of activities catering to children who can enjoy swings, spanish bullfights and the like. Food courts and restaurants are also a part of this affair. A Water treatment plant with a capacity to treat 5 lakh litres per day is being installed. A nursery with 20,000 plants of different species is being developed.
---
AQUARIUM
Located in Cubbon Park, Bangalore's Aquarium is just the place for a fascinateing trip to the underwater world, both for Children and adults. Housed in an octagonal building, it is a fresh water Aquarium, exhibiting a variety of fishes, indigenous as well as exotic.
The building also houses the Aquarists Society of Karnataka who are involved in the sale of fish tanks, fish and accessories. Apart from popularising the keeping of ornamental fish in schools and hospitals they also are involved in organising exhibitions, seminars, slide shows, lectures and imparting training to maintain ornamental fish.
It is open from 10 am to 5:15 pm on all days except Mondays and second Tuesday of every month and on general holidays.
The entrance fee is Re 1/- for children below 5 years and Rs 2/- for others
---
PLANETARIUM
Established in 1989 and located near the Raj Bhavan, the Planetarium is a visual delight for children and adults. The sound and light show - "The Sky Theatre Show" about the marvels of the universe, the planets and the solar system, is designed to be informative and entertaining. The theatre can seat up to two hundred and ten persons.Entry is restricted to children below 5 years. Tickets are priced at Rs.10/- for persons below 16 years and at Rs 15/- for persons above 16 years.
Daily shows: 3:00 pm in Kannada, 4:30 pm in English. The Planetarium is closed on every Monday and second Tuesday of the month.
---
Fun World
Fun World is a World of Wonders & created specially for everyone in the family especially the kids. Fun World is a 12 acre Disney Land Like Amusement Park, tucked into Palace Grounds, Bangalore. For our littlest visitors, Fun World has rides that are safe & good fun, like Atlanta Roller Coater, Caterpillar Rides, Rounded Train & Toy Rides. For Kids of all ages, there are surprises galore at Fun World.
---
Snow City
Snow City Bangalore is a premier amusement destination which promises different experience to everyone and redefining entertainment.
Snow City Bangalore consists of staggering 33 foot snow area spread over a massive 12,500 square feet at fun world complex located in J.C.Nagar. Snow City Bangalore serves a plethora of fun activities including climbing a snow mountain, snow sliding, making snowballs and dancing in snow arena. The promoters Vajra Group who have invested around 10-15 crore in this wonderful snow land are planning to setup art gallery of ice sculptures, laser show and other exciting amenities to ensure a visit to Snow City Bangalore remains memorable experience.
The entire city is maintained at constant -5 to -10 degrees with the aid of snow-making machines imported from Australia. These machines utilize around 5,000 litres of filtered drinking water to generate snow in natural form. The snow prepared is free of chemicals and safe for consumption. Snow City Bangalore glows daily using 3,000 units of electricity.
A visit during the weekdays for a 45 minute session would cost 390/- and for Saturday and Sunday would cost 490/- only. Visitors would be provided all the protective gear and subjected to different temperatures to avert body shock. Snow City Bangalore, the new destination for fun.
The park is open to public from 10.30 AM to 9.30 PM everyday. Every day, nine sessions of 45 minutes each is conducted. The entry fee is mentioned below:
On Weekdays: Rs 390 per person per session
On Weekends: Rs 490 per person per session

Address: Snow City Bangalore, Fun World Complex, Palace Grounds, Opposite TV Tower, Jayamahal Road, J C Nagar, Bangalore, Karnataka-560006, India.
Email: funworldblr@yahoo.com
Phone: 080 23430496 / 23543290 / 23437217
Fax: 080 23543286