If you are looking for a stress busting break from work, adventure is your best bet. There are quite a few places around Bangalore which are ideal for adventure activities, and if trekking is your calling, Savandurga is one of the best destinations to be at. With a height of more than 1200 meters above sea level, it is one of the largest monoliths in Asia, and trekking on it is real fun.
Reaching Savandurga
Savandurga is located just about 50 km from Bangalore. You can either drive down to the place on your own or opt for public transport. If you opt for public transport, you will have to take a bus from KR Market which goes till Magadi. Along the way, get down at Ramanagram road just before Magadi and then take a bus to Nayaknapalya. Take an auto from Nayaknapalya to Savandurga, which should take about ten to fifteen minutes only.
However, if you are an adventure freak, a bike trip to Savandurga from Bangalore is really fun. The roads are in decent condition and you will enjoy the rugged scenery around.

The adventure that awaits you
Trekking on this large monolith is an adventurous experience indeed. Savandurga is actually made of two hills, known as Biligudda and Karigudda. Biligudda has historical significance to it, since it served as a fort prison during the Hoysala regime. The top of the hill takes you to the ruins of a fort which was built by Kempegowda.
But that's the only thing to look forward to here. The foothills of Biligudda have two temples, namely Veerbhadraswamy and Lakshmi Narsimhaswamy Temple.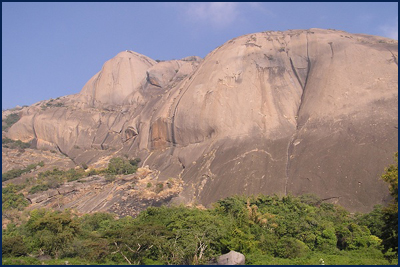 In terms of terrain, you will come across a mixed landscape on Biligudda. The trek to the top of Biligudda is a moderately difficult one, which means that it leave you a little huffing and puffing, but even if you are a beginner, you can still complete it. And the view you get from the top of this hill is simply amazing. There is also a small shrine dedicated to Nandi atop this hill.

The best part about a trek to Biligudda is you don't need to have a permit for it.

If you are the more adventurous sort, Karigudda is meant for you. Kairgudda has some really steep rock faces which will get your adrenaline pumping.
It is also a trek which is less explored, which means you won't find too many markers guiding you to the top of the hill. That's why, you should only try this trek if you are an experienced trekker and you have done something like this before. Of course, since the trek to Karigudda is much more difficult than Bikigudda, you need permission to trek on this hill from authorities.

There is wildlife to spot too
The area surrounding this monolith is blessed with more than 100 different species of shrubs and about 59 different species of trees, which is ideal as a wildlife habitat. If you are lucky, you can spot animals such as sloth bear or leopards in the surroundings areas of Savandurga. The area is also a good spot for bird watching, which several birds flocking to it during the migration season.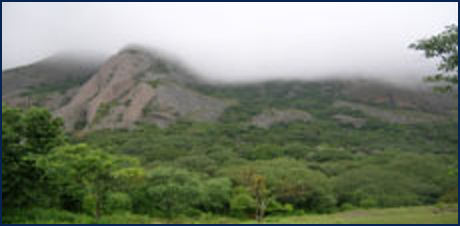 Best time to visit
You would do well to visit Savandurga during the winter months as the climate here is a lot cooler during that time. However, summers are not too bad a time either for trekking in Savandurga, although it can be quite energy sapping. However, the chances of spotting wildlife here are higher during summer months as animals come to Akravathy Lake to quench their thirst, which is located close by.

By all means, avoid the monsoon months for trekking here, since rocks become slippery during rains, which makes trekking here very dangerous.