On the first floor, the works of M. F. Hussain, Vasudev, Hanumaiah, Hariram, Rekha Rao, Yusuf Arakkal and N. S. Bendre along with various other artists are on display.On the same floor is a section dedicated to C. P. Rajaram's exquisite wood carvings
This floor is also available for exhibiting work by other artists. The second floor is solely dedicated to K.K Hebbar - the "Hebbar Section". His paintings on the elements are titled Vayu, Jala, Prithivi, Sea Shore, In Space, Nagamandala, Agni, Last Glimpse and Death. It also includes numerous sketches labeled Japan, Bali village, Mother and so on. (Timings: daily except Mon 10 am - 5 pm; Admission: Rs 10)
The paintings are arranged in an orderly fashion at a convenient height with adequate illumination to bring out the depth in these paintings.
And then there are the Chitrakala Parishat Collections, a permanent exhibition of the paintings collected by the Parishat over a period of time.
The Chitrakala Parishat is open to the public on all days between 10 am and 5 pm. However, the Parishat's personal collections, including the Roerich and Kejriwal Galleries are closed daily between 2 pm and 3 pm.
A recently concluded exhibition called "Exposition 2000" had a collection of works created by the students of fine arts, which included Posters, Cards, Calendars, Photographs and many more which came under the category of "Applied Art". The idea behind this was to apply art to all possible fields and use it as a medium of communication.
---
Bharatiya Vidya Bhavan
(Race Course Road, Bangalore Ph: 2265746/2267303)

Bharatiya Vidya Bhavan which has centres all over India, is an organisation for education in the fields of culture and literature. Seminars, discussions and literary forums are held regularly on various subjects. The Bhavan also has an extensive library of both fiction and non-fiction. Classes are held in Indian painting, Indian music, Indian dance, the Bhagawad Gita, the Upanishads, Yoga, Sanskrit and the Brahmashastras. Bhavan which is situated on the Race Course Road is open Monday to Friday from 10 am to 5.30 pm and from 10.30 am to 1.30 pm on Saturdays.
---
Chowdaiah Memorial Hall Sankey Road.
This is a hall built in the shape of a violin, in the memory of the violin maestro T. Chowdaiah. With modern acoustics including floodlights and spotlights, speakers and amplifiers, it is a popular venue for plays and dance recitals as well as the occasional fashion show. It is a multipurpose airconditioned hall which has a seating capacity of over 2500 people. It is the venue for most of the cultural events held in Bangalore.
---
Craft Council of Karnataka 37, 17th cross, Malleshwaram.
The council focuses on organising exhibitions, workshops and lectures on handicrafts and Indian handlooms.
---
Puttana Chetty Town Hall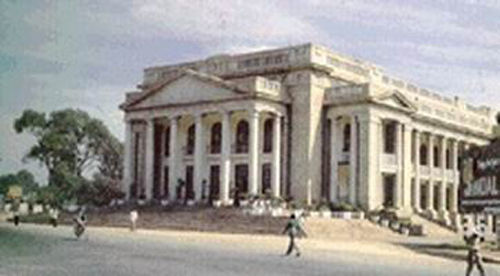 Built in the European-Classical style, this structure was built in honour of K Puttanna Chetty. It has a fairly large auditorium. The Hall is booked almost through out the year with meetings, plays, magic shows, dance and other performances. This Town Hall was opened in 1935 and can accomodate an auidience of 900 people. Town Hall is also an important landmark of Bangalore
Situated next ot the Town Hall on the JC Road, this is another huge auditorium where plays, drama and dance competitions are frequently held. Built during the centenary year of Rabindranath Tagore, this is a fine theatre for dance and drama and can accomodate and audience of about 1500 people.
Opposite to the Kalakshetra is the ADA Ranga Mandira which is a new addition for the cultural loving people of Bangalore.
---
Indian Institute of World Culture
It is situated at B P Wadia Road in Basavanagudi.. It has a well equipped library with a variety of books & manuscripts. It conducts summer courses for children.
---
The British Council Library 29, St Marks Road.

A good library with a collection of more than 4000 books. The library also has a section that features educatinal audio and videotapes. Open from 10.30 am to 6.30 pm every day except on Sundays and Mondays. The annual subscription fee is Rs 500.
---
Max Muller Bhavan , CMH Road Indiranagar

Founded in 1960, with an aim to bind India and Germany culturally through information and education. The bhavan offers short term and long term German courses and also conducts seminars, exhibitions and workshops. A wing of the Indo-German Cultural Society of India, Max Muller Bhavan works at bridging the cultural gap between India and Germany. There is a library, and occasional film screenings.
---
Alliance Francaise 16, G M T Road.Vasanthnagar, Bangalore-560052

The French Embassy's culture shop. It holds exhibitions, cultural activities and film shows at regular intervals. The Alliance Francaise also boasts of an art gallery, video library, dance studio, cafeteria and an Asterix Club that will delight children.
---
OTHER ART GALLERIES OF INTEREST
Art House
416, Ist Cross, ISEC Main Road, Nagarbhavi, Bengaluru-72. www.arthousebengaluru.com
E-Mail: kp_arthouse@yahoo.co.in
Abstract Art Gallery
#8, Next to Svisti, Cunningham Rd., Bangalore-560052
Ph: - 51235444

Bangalore Art Gallery
544, CMH Road, Ist Stage, Above Food World,
Indiranagar, Bangalore-560038
Bangalore Art Studio
Gravure & Flexo 1-PCRd, Balepet Cross, Bangalore
Ph: 22873068

Crimson
28, Ist Floor Safina Plaza, Infantry Road, Bangalore- 560 001
Ph; :25592251
Coral Art Gallery
2926, 14th Cross, K.R. Road
Banashankri 2nd Stage
Bangalore - 560 070
Tel:2676 5920
Fax:4169 2995

Corridors of Colour
47, The Central Park Hotel, Dickenson Road, Bangalore,
Ph: 25584242

Drishti Art Gallery
SG 14, Manipal Center, Dickenson Road,
Bangalore-560042
Ph: 25092062

Earthern Symphony
299, 6th Main, Defence Colony, Indira Nagar,
Bangalore
Ph: 25281101

Ethos Art and Design Studio
296-B, 9th 'A' Main, 38th Cross, Jayanagar 5th Block,
Bangalore
Ph: 26630706

Gallery Sumukha
24/10, 7th Main Road, Wilson Garden, Bangalore
Ph: 91-80-2286782

Gallery G
Maini Sadan, 38 Lavelle Road 7th Cross,
Bangalore-560001
Ph: 22219275

Gallery Lavelle
497,CMH Road, Indiranagar, Bangalore- 560 038
Ph: 22236677

Gallerie Mantram
CFD, 5th Floor, Sona Towers,71, Millers Road, Bangalore

Galleryske
'The Presidency', # 82, St. Marks Road, Bangalore
Tel:4112 0873, 6595 1972
Fax:2223 8312
Gallerie Zen
1919, 1st Floor, 30th Cross, 14th Main, Banashankari 2nd Stage, Bangalore-70
Ph: 26710412

Hatworks Boulevard
32, Cunningham Road, Bangalore-560 052
Ph:22250174

Husain Saunkalana
32 ST Bed, 4th Blk 80ft Rd, Koramangala, Bangalore
Ph: 25533043/1210

Java City Studio
24/1, Lavelle Road, Bangalore
Phone: 2221 5779.
MITHILAsmita Art Gallery,
Opp. Brigade Millenium, Puttanahalli Main Road,
J P Nagar 7th Phase, Bangalore- 78
Store timings: 3PM- 9 PM weekdays 11 AM- 9 PM SAT & SUN
Monday holiday
www.mithilasmita.com
Max Mueller Art Gallery
716, Indiranagar, CMH Road, Bengaluru, 560038
Phone: 2520 5305
Mahua Art Gallery
151, Rajmahal vilas Stage -2 1st Block (Dollar's Colony)
2nd Main Road Bangalore - 560 094
Ph: 23517288 / 98
Magnitude Gallery
No. 140/13, 27th cross
3rd Block, Jayanagar
Bangalore - 560 011
Tel:+(91)- 99001 17201
Masters Gallery of Fine Arts
1209, 100 Ft. Road
Indiranagar, HAL II Stage
Bangalore - 560 038
Tel:2520 3535
Fax:2520 3838
Norman Guido
34, M.E.G. Officers Colony
Banaswadi Road
Bangalore - 560 033
Tel: 2547 8319

Renaissance Gallerie
104, Westiminster Cunningham Road, Bangalore
Right Lines Art Gallery
#270, 1st floor, 1st Main, Defence Colony,
Indiranagar, Bangalore-560 038.
Ph:25272827

Sasha
2041, 17 Mn, I Crs, HAL 2 Stg,
Indiranagar-Bangalore
Srishti
777/B, 100 Ft Rd, HAL II Stg, Indira Nagar, Bangalore
Thalanki International
PB #7569, #77 Paris Corner, Hospital Rd
Ballepet Cross
Bangalore
Time & Space Art Gallery
Lavelle Rd, Bangalore
Phone: 2299 6563.

Westminister Art Gallery
# 25, Windsor Manor Sheraton,Sankey Road, Bangalore,
Phone: 2226 9898.