Vasanthi Hariprakash
The endearing chatterbox of Bangalore's Jukebox!
Sandhya Prabhakar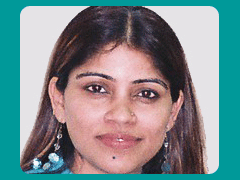 For some reason I always thought that she had chubby cheeks - she had such a full voice. Surely she must be just past teenage for she sounds so full of cheer? For the energy which invigorates your morning filter coffee with that fruity clarion call, "Good morning Bangalore" on the breakfast show, Vasanthi Hariprakash must surely be the most fizzy thing amongst all those that dot the FM horizon with their light-hearted banter. Che! Che! She is not a bit like what you and I had pictured her to be.
What with the illogical one-ways which have made Bangalore's traffic almost lunatic, I entered the Radio City Office a full half hour late for the interview; I nearly expected her to have left in a huff. But when a smart young lady, probably in her mid thirties, in Jeans and a sea blue kurta welcomed me with a smile and an outstretched hand of perfect understanding, I needed no formal introduction - she had to be that sunshine girl…!
Vasanthi's foray into radio has been strange and unplanned. Despite a basic degree in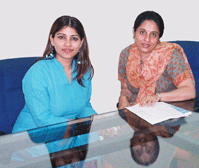 electronics, her passion for literature and investigative journalism took her to a PG course in Journalism at Bhavan's. As a sub-editor for Indian express she was the coordinator for "Network for Women in Media." She was then invited to air her views on World Press Freedom. The rest is history. Having been a keen radio buff herself all through her childhood, Vasanthi went on to host a weekly Western music show called `Wednesday Windback' on All India Radio for almost a year, before she was invited back by Radio City 91.1 FM to host the primetime Breakfast Show every weekday 7 to 11 am.
Her energetic waking up of the city with a beautiful thought here, a concerned enquiry there, a sympathetic tch! tch! sprinkled at the right moments and most of all her ringing laughter made this sunshine girl instantly 'connect' with this amazing city. Her fluency in atleast six languages Gujarati, Tamil among others apart from English and Kannada with all its dialects was an added advantage in this multi-lingual metropolis. No wonder the punch-line for Vasanthi's show was "She speaks your language".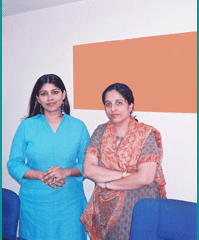 Speaking your hearts language she truly did. Recently when she did a program on the darkest confessions it was indeed fascinating how she ended up being a confession chamber of sorts. A man cheating on his wife for 13 years, women owning up to really evil deeds…dark ….darker ….darkest….!! Vasanthi's intensity and depth as a person, her genuine desire to heal and make a difference was apparent. She has deeply lived those moments and feels good that she can keep that faith for that is the beginning of change to other people. Indeed there is little difference between what she really is and on radio. Herein lies the secret to her intensity.
Of course there have been occasions when she had to fake the cheerfulness – like for instance, when her little son was very sick, the pressure got on her as she had to brightly go on air, playing a rollicking rhythm and immediately call her husband for minute-by-minute updates on his condition. It is her husband, her mother and her son who are such pillars of support and understanding. An undemanding, uncomplaining family is perhaps the greatest boon in a working woman's life. Her own personal challenge has been to manage the guilt of not spending as much quality time with her family as she would have wished. It is ironical that while she is the breakfast and travel companion for lakhs of Bangaloreans she rarely shares the breakfast table with her own family even on holidays – for these are occasions for special shows on air. Well, such is life…
Professionally, her big moment was when she was chosen to represent India at the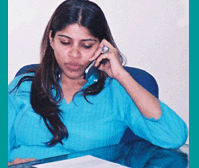 "Global Young Leaders Seminar" in Salzburg. That week at the Salzburg Castle, brain-storming with the world fraternity of young achievers was indeed memorable. Getting a world- view on real issues plaguing this planet, the sense of oneness was truly palpable. Trivialities such as the color of your skin just did not figure as they plunged themselves into scenario- building - on how the world should look in the year 2030. She spoke on "Radio for Social Change". Vasanthi strongly believes in the power of community radio. She feels strongly about the abuse of Plastics and its ill-effects. The fact that India is a country with the largest number of illiterates with not even the basic access to education deeply disturbs her. She is doing her bit to create an awareness, rope in organizations to this big cause thereby bringing people ready to help and the needy together. A concerted plan is slowly emerging from her efforts in building 'a sunshine' community for Bangalore. For this she truly deserves the title, 'Bangalore's sunshine Girl'
She recalls with gratitude that were it not for some really wonderful people such as Suresh Venkat (Programme Head, Radio City), Mr. N.R. Narayan murthy (Chief mentor, Infosys) and Ms Shakuntala Narasimhan (Noted Journalist), who believed in her potential more than she herself did, she would not be what she is today. She vows that she will never delete that mail by Mr. N. R. Narayanmurthy, "I listen to Vasanthi's shows whenever I can. I notice that she has a genuine desire to make a difference to the world around her. She has the power to mould the opinion of over 2 million listeners through her radio show." was at once wonderfully motivating and humbling.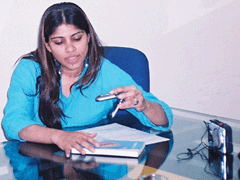 Vasanthi's admirers are countless and are of all ages and backgrounds. Pushing back her beautiful streaked hair, she laughs as she recalls how a well-meaning gentleman requested her horoscope and the contact number of her parents. But all he got was her husband's details in turn!! But love has no bounds. A youngster brought in some 'Kashaya' specially prepared and sent by her Ajji just before she was to leave for Salzburg. She swore by her Granny's concoction to fight the Austrian cold. Perhaps it is this 'part of the family' warmth that vasanthi exudes which makes her so endearing. Be it Asha Bhonsle or Mannadey on her show or the bus driver with his rich repertoire of folk songs her courtesy does not vary. It matters little if their language skills are 'worshhtu' or 'beshhtu' what matters to her is the human being.
When Radio or even disc Jockeying is full of negatively funny 'evil' pranksters who love to rip you apart, here is a person with whom you will 'connect' endlessly without squirming in your seat. Little wonder that she was chosen for the Radio Excellence Award for the India's Best English RJ.
Psst... We just heard that Vasanthi has left Radio City and joined NDTV. Good Luck Vasanthi andKeep Shining, for the sun must never set on Bangalore…