Tripura Kashyap

DiscoverBangalore is pleased to introduce Tripura Kashyap, a renowned choreographer and dance therapist to the visitors of our site and to the world as we recognize her good work.
Tripura Kashyap is a Dance/movement Therapist, choreographer and teacher based in Bangalore. She received a degree in classical dance from Kalakshetra, college of fine arts, Chennai. Later she was a performing artiste in the Chandralekha Dance Company in Chennai for several years. She studied Dance Therapy at Hancock Center for Movement Therapy in the U.S and holds an M.A degree in Psychology. She has received the Ashoka International fellowship for her innovative work in dance/movement therapy.
What brought Kashyap into dance therapy? Around 1988, after a stint with Chandralekha, she was working as a librarian at the Institute of World Culture in Bangalore. "I vaguely wanted to start a dance group. But I was equally keen on dance for handicapped people. Maybe because my late brother was differently-abled. I had no idea how to go about it. That's when I met American dance therapist Grace Valentine and she invited me to the US," Kashyap says.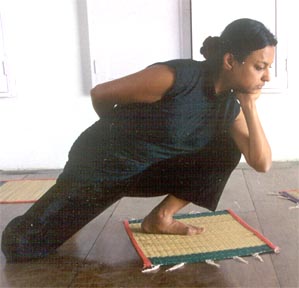 On her return, Kashyap set up her own dance troupe, Apoorva, best known for its pieces, 'Chayangika' and 'Aranyakiran'. Many non-dancers signed on. Then came an Ashoka Fellowship in 1992, during which she travelled the length and breadth of India, training special educators to use movement therapy. In addition, she compiled a handbook with 40 activities they could use as starting points.

Kashyap feels special educators need dance therapy more than the handicapped. "They're out of touch with their own bodies. They earn a pittance of what normal teachers do. It's almost voluntary work, yet their inputs are much greater," she stresses. "Often, I do follow-up workshops, so that they can come back with their problems. Word is now spreading that movement needs to be a part of the curriculum."

As choreographer-in-residence at American Dance Festival, N. Carolina, she trained in Jazz Ballet, Modern dance, choreography and dance theatre. She founded Apoorva Dance Theatre in Bangalore and is involved in choreography and performance of contemporary/modern dance. She has worked collaboratively with filmmakers, visual artists and musicians on cross-art projects and performances.
Tripura worked as creative consultant for the Dance-in-Education program at Attakkalari Center for Movement Arts, Bangalore for five years. She has also researched into the Therapeutic potentials in Indian dance forms under a fellowship of the Indian cultural ministry. She travels widely in India and abroad performing, conducting workshops and lecture demonstrations on contemporary dance and dance therapy.
She has written a book titled "My body, My wisdom – A handbook of Creative Dance Therapy" published by Penguin in May 2005.
She can be contacted at tripdance@hotmail.com

Please E-mail your comments/feedback about the above write-up.