MAKALIDURGA
Amazing Landscape near Bangalore

Bored of visiting the clichéd popular places of Karnataka? Why not explore some amazing landscape near Bangalore this weekend? Being a nice little picturesque town of Karnataka, Makalidurga serves its purpose of rejuvenating the tired souls and making the visitors feel one with nature. Bird watchers, nature photographers and environment conservators find it a joy to come to Makalidurga every year and take in the blissful views of the landscape. There is a quiet mysticism to Makalidurga and every visitor who has ever been to the place would agree. Adventure enthusiasts will have a gala time exploring the many big and small granite outcrops that dot the landscape.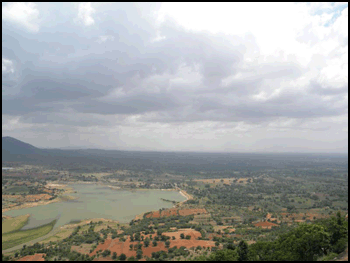 The beauty of the place
Makalidurga is beautifully bestowed with the best of nature. The perfect getaway for a fun filled, adventurous day out, Makalidurga makes sure that you are on your toes, learning and unlearning throughout your day there. Be it a team outing or just a weekend away from the hustle and bustle of the normal routine life, Makalidurga offers the best respite. Bangalore's robust and fun loving crowd can find a nice weekend escapade to Makalidurga.

Activities to indulge in
This place is a haven for adventure freaks as well as the tourists. Trekking, camping, rappelling, etc can be undertaken almost any time of the year. By and large, the place is famous for its varied fun and sporty adventure activities like:
Rock climbing
Hill climbing
Rappelling
Jumaring
Raft building
X-trail
River Crossing
Burma Bridge
Camping
Bullock cart ride
Kite flying
Zip line
Vine traversing;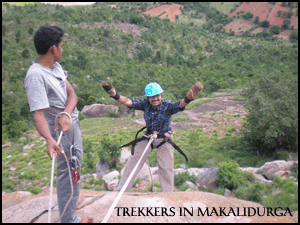 Makalidurga offers the best to all its visitors. For those who just are in search of a place to explore their own souls can visit the fort which lay in ruins but is simply beautiful. There are many trek routes that one can follow and go into the wilderness uninhibited. Trekking expeditions are undertaken in numerous numbers because the place is well explored in its entirety by walking through its every big and small nook and cranny. A wonderful past time for all visitors to the place.
Places of interest
The landscape of Makalidurga is lush with greenery and thus one can enjoy the breeze on the way leading to the top of Makalidurga hilltops. Other places of interest and worth visiting include: