India Coffee House
on M G Road ( for a few days more )

A lot brews over a cuppa!!! Whether it's the "cup that Xls" or a "lot can happen over a cuppa" statement Bengalureans love nothing more than starting the day with a steaming cup of strong coffee. Friends catching up on gossip, beaus whispering sweet nothings, deals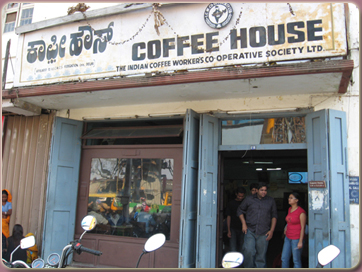 getting struck, political shenanigans, writers' creativity getting a boost, project discussions, holiday plans, discussing animatedly the pretty girls of Mounts – this is the familiar INDIA COFFEE HOUSE or ICH scene now and "then" when it opened 51 years ago in a building built in 1936. It is characteristically laid back Bengaluru to its lazily whirring fan.

The smell, the taste and the caffeine lift is a part and parcel of our daily lives. For many an old timer walking on the fast changing M.G.Road, it's a nostalgic nudge to the late '50's when they used to queue here for the two anna (12 paisa) coffee at 8 A.M. along with a masala dosa/scrambled eggs on toast. The first of the COFFEE HOUSES in the country that still has a persistent air of engaging mediocrity, the M.G. Road joint still is dear to many in spite of the brash coffee café days and baristas jostling for attention nearby.

The Coffee Board of India headquartered at Bangalore, in the forties opened its first branch at Avenue Road in Aug 17 1957. When it was closed due to a policy change in the fifties, communist party stalwart Mr. A.K.Gopalan set up the workers' cooperative in 1958 and the country's first branch was opened on M.G.Road in January that year. Employees who took voluntary retirement manage the show. Mr. Subba Rao, the first President and B.Subbaiah (Secy, and the man behind the show) with the owner of this bldg Mr. Thambu Chetty were friends and hence got to house the coffee joint in this building.
Pure Coffee sans chicory (that most brands of Indian coffee contain) from the Coffee Board is the only coffee powder that is used in the brew at an unparallel price of Rs 8/=. Nowhere is coffee available on M.G. Road at this price.

Reminisces Anand Arshia- "I was introduced in Trivandrum to the ICH when as a new bride I shifted base from Rajasthan. French toast and coffee were the favourites. When my husband was transferred to Bangalore I was happy that there was an outlet very near my house. I think the coffee at any of its branches tastes the same. At the M.G.Road ICH I became a die hard fan of the sandwiches and omelet. The old posters, the sloppy service by the weirdly dressed waiters and the laminated table tops make me nostalgic." She had come to ICH with friends for Masala Dosas, coffee, veg. cutlets served with tangy tomato sauce and Lime juice with the floating seeds which she says is better than her home made version.

On the 25th anniversary of ICH we received congratulatory message from no less a person as Vajpayee. Deve Gowda, MF Hussain, SM Krishna, VishnuVardhan, Shankar Nag, U.R. Ananthamurthy, Girish Karnad etc had their coffees here. Recently Malayalam super star Mohanlal who has a star hotel on Cunningham Road had his sip here. ICH is held in high regard even today says the manager Mahesh wistfully. A few waiters here still remember the visit of M F Husain, remembering how he asked for an extra coffee. " We'll soon have nothing left of the past in the city", said one gentleman to a local newspaper.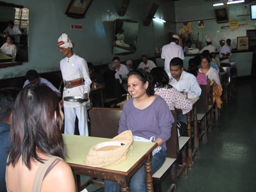 ICH is a store house of memories and a legacy by itself where coffee drinking is an exalted experience. The time wrap bubble will shortly burst. Dear browsers do go and have your last wistful caffeine sip and "fork" in the masala dosa and vegetable cutlet and do not forget to take in the tacky posters and waiters in their white and red uniform before this landmark becomes a MEMORY.
Coffee Trivia

Baba Budan brought a handful of coffee beans from Mecca to India- Chickamagalur in 1670 A.D.
India exports 70% of the coffee produced, mostly from Karnataka. Hence the Coffee Board of India is at bengaluru
Coffee eases the nasal passage and improves airflow and hence helps to ward of asthma
Mayo hall on M.G.Road was the place where the coffee traders would meet probably after the auction